Picturing Writing and Image-Making Workshops

Teacher Training & Materials
Experiential Learning
All Picturing Writing and Image-Making workshops are experiential. Teachers learn by doing. Each unit of study comes with support materials—a teachers manual of daily lessons, mentor texts, classroom posters, and an artists frame. There are also high quality instructional videos available to be used as follow-up support.
Onsite or Virtual Training Available
Workshops can be conducted either onsite or virtually. Over the years, Beth and her small team of Certified Trainers have traveled to distant islands of Saipan, American Samoa, Hawaii, Puerto Rico, Baffin Island and Sanikiluaq in Nunavut in the Canadian Arctic as well as to land-locked communities in the remote Alaskan tundra to teach Picturing Writing and Image-Making. We travel anywhere we are invited! As of June 2020, Beth has been offering virtual teacher-training and classroom coaching, which is available wherever there is connectivity.
Because pictures are a universal language, Picturing Writing and Image-Making can be used to teach writing in any language and has been used to revive lost languages.

Workshop Modules
Each Picturing Writing or Image-Making module requires a specific number of hours dependent on that particular unit of study. Onsite workshops are scheduled in daylong or multi-day increments depending on the travel time whereas virtual workshops can be facilitated incrementally, in half-day or after-school blocks, or a combination thereof. When travel is involved, the workshop sponsor will be responsible for paying for all travel-related expenses.
What Teachers Say About Our Virtual Workshops
I can't thank you enough for such an excellent workshop. It was honestly one of the best I have ever participated in, a beautiful combination of art and writing. The high-quality mentor texts, vocabulary and writing development, embedded content, and S.E.L. make this a highly useful project- based learning approach suitable for all learners. The remote format worked very well. The instruction was high quality as were the materials shipped prior to the workshop.
– Sara, EL K-5, Rutland, MA
More…

This program was exceptionally well crafted. I was impressed with how organized the materials were, and how well the activities worked to pair art and writing. I am not always a big fan of virtual classes but this was very convenient and as meaningful as if in person. It was great to get to work directly with Beth!

– Derek, grades 9-12, Kindred, ND

---

I thought it worked wonderfully remotely! I loved how you modeled both the art and writing workshop so we could experience the power behind the process ourselves. I am very excited to try integrating your ideas with other subjects for my class next year.

– Breanna, grade 3, Tacoma, WA

---

This has been AMAZING!! I am so extremely excited to do this with my students this coming school year! I cannot wait to share what I have learned. My EL students will definitely be engaged in this process and it will be so valuable for them.

– Stacey, EL K-5, Fargo, ND

---

Honestly, I loved the virtual format. It was nice to see everyone's piece in the gallery walk and I really liked the breakout rooms!

– Louise, grade 2, Bismarck, ND

---

I liked the interactive art and writing opportunities. Also, I appreciate the online learning format as it allowed me to attend in a much more economical way in comparison to attending an in-person workshop outside my local area.

– Tiffany, grade 3, Springfield, OR

---

I felt Beth did a really nice job navigating between the different views and settings in zoom to make this virtual workshop very interactive.

– Natasha, K-8 EL, Eau Claire, WI

---

LOVED this professional development! My favorite in all 10 years of my career. It taught me strategies to engage my students in writing. I feel more confident in my artistic ability!

– Sarah, grade 4, Dorchester, SC
---
Picturing Writing & Image-Making Mentoring Programs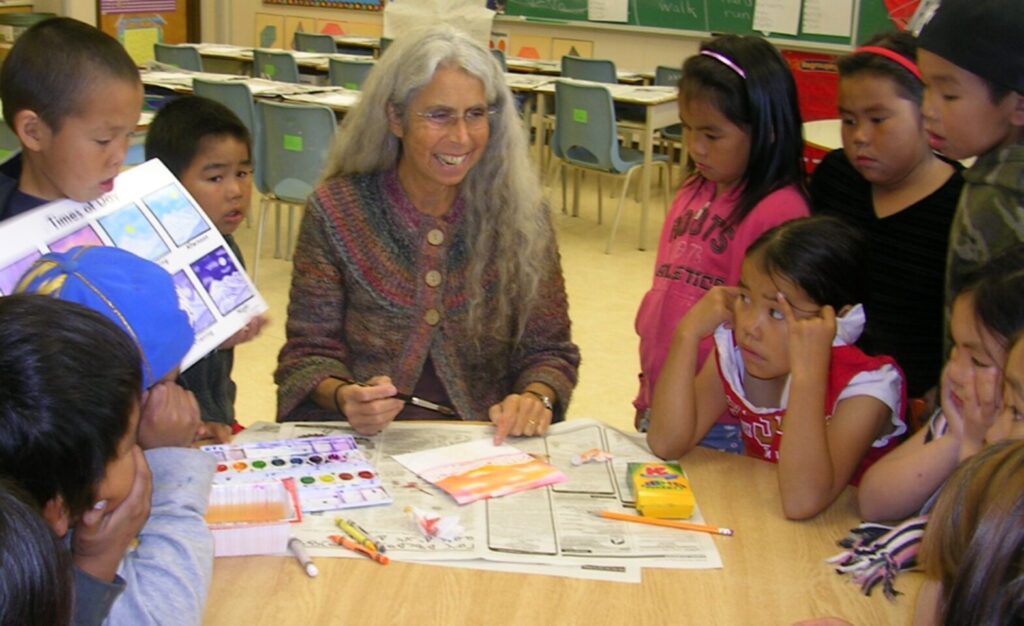 For teachers interested in more in-depth training and support, our Mentoring Program allows for ongoing support during classroom implementation. For local teachers that could mean setting up a schedule of onsite visits that include classroom coaching. For teachers at a distance, it could mean Beth modeling classroom lessons remotely and/or meeting with a cohort of teachers after-school periodically to discuss and refine teacher practice. These options have a graduate credit option available.
What Teachers Say About Our Mentoring Program
The Picturing Writing Mentoring Program was an excellent way to integrate writing into my first grade classroom. Beth modeled demonstration lessons and together, as a team, we were able to circulate among the students to assist and adapt to their writing needs. Even as a veteran teacher, the collaboration helped to update and broaden my teaching of writing practices.
– Rita Jacobs, grade 1
More…

Working with Beth through the Mentoring Program was an honor. To have the chance to watch her implement the Picturing Writing process and interact with my students allowed for tangible examples of how this work could fit into my classroom. While watching her in action was worth the experience alone, the one-on-one mentoring was invaluable. The chance to work with Beth directly, receive immediate feedback, and ask relevant questions helped to support and shape my teaching. It also left me feeling confident and excited to implement the process on my own in the future.

– Victoria Hanson, grade 3

---

Having Beth come into my classroom to model the artist process as well as the brainstorming for our writing pieces was a gift! My students looked forward to her visits and were always ready to get down to work! Their joy and excitement was priceless; my students quickly changed their mindset and saw themselves as serious artists and writers! I will forever be thankful for this opportunity!

– Janice Packard, grade 1

---

During our daily Zoom lessons last fall and spring, Beth brilliantly combined both art and writing lessons for my third grade students. My students eagerly looked forward to seeing Miss Beth each day. We created two books: a Picturing Writing Animal Research Story and an Image-Making Family Immigration Story. Not only did the art portion stimulate and inspire my students' writing, but it also served as art therapy for the children's social emotional development. Even through Zoom, students created detailed and dramatic paintings, which served as a foundation for detailed and dramatic writing. As I team taught alongside Beth, we were able to brainstorm, draft, conference, and revise with students in breakout rooms, as if we were in the physical classroom. Beth not only assisted the children in becoming better artists and writers, but she also valued and nurtured each students' personality and ability in their journey of creative and academic self-discovery. Students, parents, and teachers all viewed the final products with pride and admiration. My students produced their best artwork and writing all year.

– Linda Morrison, grade 3
---
Certified Trainer Program
As evidence-based literacy models, it is important that this body of work be disseminated with fidelity to insure the promised results. We discourage the casual passing along of the Picturing Writing or Image-Making process without comprehensive teacher-training. To that end, we ask that teachers share their enthusiasm for the process without taking on the role of training fellow teachers. With virtual workshops now readily available, it should be fairly easy for interested teachers to access training. We also have instructional video packages that include comprehensive visual and written materials for those teachers who are unable to attend a workshop.
For those seasoned Picturing Writing and/or Image-Making practitioners interested in training other teachers, we do offer a Certified Trainer Program. Those seasoned practitioners who are accepted into the program work directly with Beth to insure that all workshop facilitators offer the same comprehensive training experience. Please contact Beth if you are interested in learning more: [email protected].