Picturing Writing Time of Day Workshop
Afterschool Sessions Oct. 5, 12, & 19 (Wednesdays)
Address Learning Loss through an evidence-based approach that engages all learners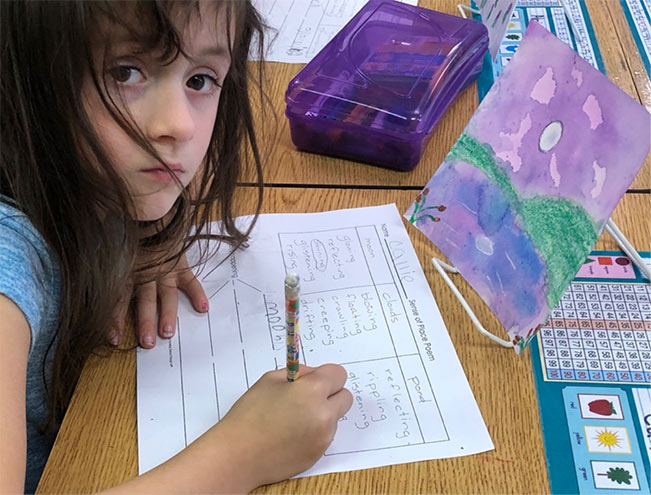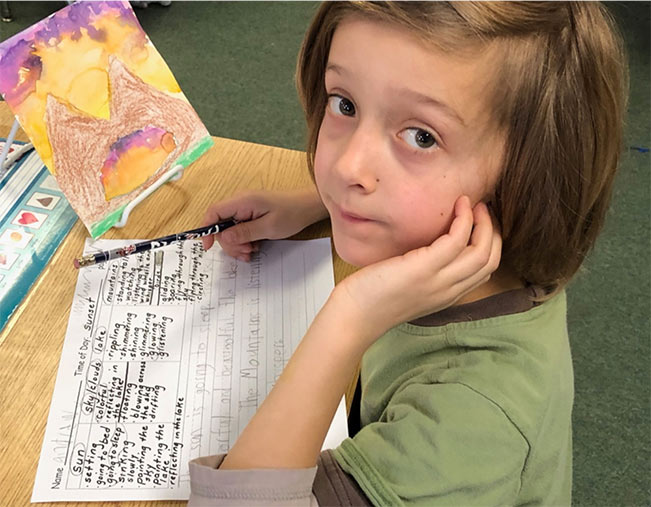 The foundational Time of Day Unit introduces Artists/Writers Workshop. It teaches the crayon resist art process and how to read pictures to access detail and description. Building community word banks creates an opportunity for students to understand the value of word choice as they describe what is happening in their paintings. As students engage in writing descriptive sentences, they discover that using just the right words (especially strong verbs) can make their paintings come alive! This discovery can cause quite a stir in classrooms K on up. Who doesn't want to learn how to "make magic?"
The Time of Day Unit is a precursor to narrative writing. It teaches students how to develop a sense of setting and how to paint pictures in the reader's mind. Students also learn when you turn the pages of a book, time passes. As students engage authentically with language, they come to understand the purpose of different parts of speech. They refine their writer's craft in order to perform "The Magic Trick."
The newly updated Time of Day Unit teaches descriptive writing, informational writing, and opinion writing. This unit lays the groundwork for more sophisticated Picturing Writing units of study later in the school year.
No previous art experience necessary!
Registration deadline: September 23, 2022
Location: Your home or school (virtually)
Cost: $450 (includes $150 worth of materials: teachers manual, book/introductory video, 3 mentor texts, 2 posters, an Artists/Writers Workshop poster, an Artists Frame, and all workshop art materials shipped to your home or school.)
One graduate credit available through SNHU for $150;
additional credits available for classroom implementation.
Picturing Writing Classroom Kit options:
$515 for 20 students (plus $45 S&H to ship the 40+ lb. box)
$580 for 24 students (plus $45 S&H to ship the 40+ lb. box)
---
Questions: Contact Beth at [email protected] or (603) 659-6018
Cancellation after deadline will be charged a $50 processing fee; Cancellation after workshop materials have been shipped will be charged $50 plus $175, the cost of materials and shipping.
---
I have never in my 30 years of teaching seen first graders write like this or be so attuned to literature. This approach works for my low readers and writers; it challenges my top students; and it supports those in the middle
Merrilee Thissell, first-grade teacher
---
Picturing Writing allowed all my children to be successful. It provided wonderful concrete tools for rehearsal, drafting, and revision. I saw the most growth with my lowest students.
Millie Parks, fifth-grade teacher
---
I had great success using these methods with English Learners and other at-risk students. This visual approach promotes oral language skills and writing that flows directly from the pictures students have painted with care.
Donna Garcia, Instructor of Language & Literacy, UNM