Creating Winter Stories Workshop
Afterschool Sessions Nov. 29, Dec. 1 & 6 (T-Th-T)
Address Learning Loss through an evidence-based approach that engages all learners
Did you ever wonder how to move your students beyond "And then . . ." stories to fully grasp the key elements of a good story?
Transform your teaching of narrative writing using simple, highly scaffolded, evidence-based methods designed to engage a wide range of learners. Experience for yourself the Picturing Writing Winter Stories process.
Through participation in Artists/Writers Workshop and the Picturing Writing process, you will learn how to:
use simple crayon resist-based art techniques to create a winter story
use storyboards, accordion folders and specially designed brainstorming sheets to purposefully craft a solid story in pictures and words
create image and text to address the purpose of each literacy element (setting, character, problem, solution) based on the study of quality picture books
read your paintings to access detail and descriptions
wow your students by performing "The Magic Trick"— teaching them how to use strong verbs to make a picture come alive!
Through the dual languages of pictures and words, students will become immersed in a creative, academically rigorous process that deepens their understanding of the key elements of story and the dynamic relationship between pictures and words.
Because pictures offer a universal language, Picturing Writing allows students to enter the reading/writing process from a position of personal strength and enthusiasm. It provides an enticing alternative pathway into literacy learning for English learners and others who struggle with reading and writing.
Supported by best practices and nearly three decades of independent research, this multimodal approach aligns with English Language Arts Standards in reading, writing, listening, speaking, and language.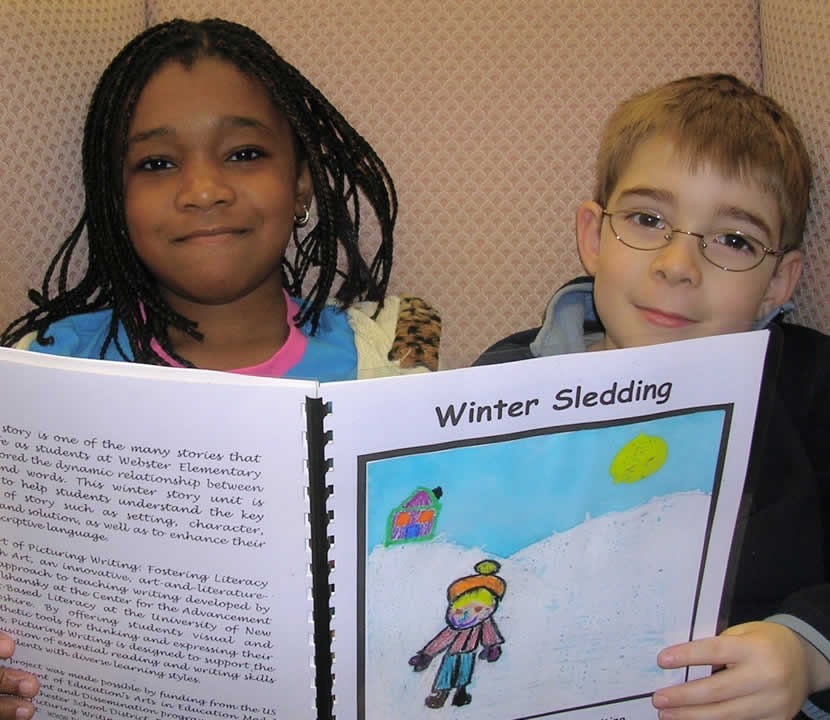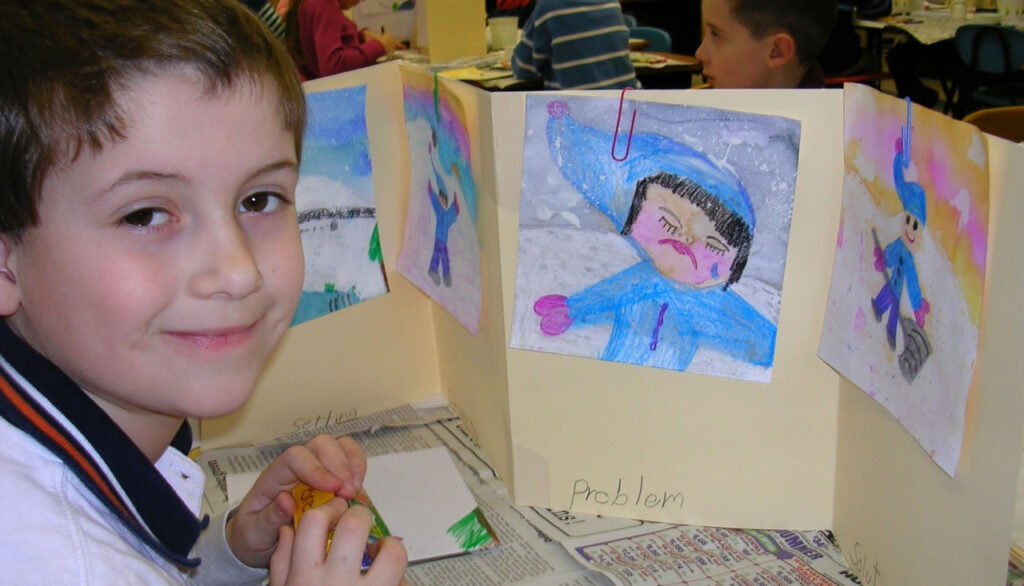 No previous art experience necessary!
Registration deadline: November 11, 2022
2022 Creating Winter Stories Workshop
Nov. 29, Dec. 1 & 6, 2022 – 3:45-5:45 PM ET
---
SNHU Graduate Credit
---
Picturing Writing Classroom Kit for 20 Students
---
Picturing Writing Classroom Kit for 24 Students
---
Picturing Writing Creating Winter Stories Instructional Video
(6 hours of content includes every art & writing lesson, discounted 50%)
---
Paper Order Form for Picturing Writing Creating Winter Stories Workshop (pdf)
Location: Your home or school (virtually)
Fee: $450 (includes teachers manual, folder of masters, PW mentor text, time of day and winter techniques posters, winter station labels, artists frame, Artists/Writers Workshop poster,
and all art materials used during the workshop)
One graduate credit available through SNHU for $150;
additional credits available for classroom implementation.
Picturing Writing Classroom Kit options:
$515 for 20 students (plus $45 S&H to ship the 40+ lb. box)
$580 for 24 students (plus $45 S&H to ship the 40+ lb. box)
---
Questions: Contact Beth at Beth.Olshansky@comcast.net or (603) 659-6018
Cancellation are subject to a $50 administrative fee. Once materials have been shipped, cancellation fee is $200 to cover cost of materials and shipping.
---
I have never in my 30 years of teaching seen first graders write like this or be so attuned to literature. This approach works for my low readers and writers; it challenges my top students; and it supports those in the middle
Merrilee Thissell, first-grade teacher
---
Picturing Writing allowed all my children to be successful. It provided wonderful concrete tools for rehearsal, drafting, and revision. I saw the most growth with my lowest students.
Millie Parks, fifth-grade teacher
---
I had great success using these methods with English Learners and other at-risk students. This visual approach promotes oral language skills and writing that flows directly from the pictures students have painted with care.
Donna Garcia, Instructor of Language & Literacy, UNM